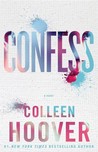 Confess
by
Colleen Hoover
My rating:
3 of 5 stars
So far, this was like my least favourite of colleen Hoover's books.
I like the idea. confession. its unique. really really unique. where you inspire to paint by random kinds of other people confessions and try to relate them with your own by arts.
But, i think that the love developments can be written better than this though.
the romance was completely cliche like other romance so was the conflict happened.
I find myself did not really into the characters. I did not like the characters but i did not hate them either. They were just characters. It did not really grab and hold me like maybe someday and november 9 which were absolute masterpieces. I love the covers and all the paintings inside. It felt like the story behind it was real and came alive. I love the story between Adam and Owen which then connected with Auburn. It was sad and touch at the same time. That story was the reason why I give this book 3 stars or otherwise I give it 2.
I hate insta-love. You must know that in real life such thing did not even exist.But this book still stick to that love genre.
So at least bring some logic into this story , maybe then I feel it real. As for insta-love , its different thing with November 9. Thats just another story.
I did not like OMG as much as I hope I will be. He was just a random guy who I did not find any special at all. He was just a great succesfull painter at such a young age who suddenly find his ( which he refer as ) fate in front of his door. Then I had no idea at all how the hell in the world he would claimed himself as being desperately in love with her. I can't find any logic in this. How? and Why? Auburn was just another pathetic heroin girl who was so weak to even make her own decision in her life and made others to determine it for her. I felt bad for her son.Her son seems to like everybody in his life. I actually quiet jealous he managed to do that .I don't feel like I was reading CoHo book actually. It seems like everything that make Nov 9 and Maybe Someday masterpieces kind of missing in this story. I am sorry I keep comparing them. I can't help it.
View all my reviews