Obsidian
by Jennifer L. Armentrout
Genre
: Young Adult, Sci Fi, Paranormal, Fantasy, Romance
Series
: Lux #1
Pages
: 335
Goodreads Rating
: 4.25
My Rating
:
Starting over sucks.




When we moved to West Virginia right before my senior year, I'd pretty much resigned myself to thick accents, dodgy internet access, and a whole lot of boring… until I spotted my hot neighbor, with his looming height and eerie green eyes. Things were looking up.




And then he opened his mouth.




Daemon is infuriating. Arrogant. Stab-worthy. We do not get along. At all. But when a stranger attacks me and Daemon literally freezes time with a wave of his hand, well, something… unexpected happens.




The hot alien living next door marks me.




You heard me. Alien. Turns out Daemon and his sister have a galaxy of enemies wanting to steal their abilities, and Daemon's touch has me lit up like the Vegas Strip. The only way I'm getting out of this alive is by sticking close to Daemon until my alien mojo fades.




If I don't kill him first, that is.
Guys, I warn you. Don't even look at the cover. Please. I have to put it there, because I have no choice. The cover is literally sucks. Tell you what, I don't even glance at the cover especially the model character there, except the title of course. It creeps me out. Once I look at it, it totally ruined my whole imagination and fantasy of the extremely exquisite of the descriptive Daemon. Can't they put another model please? I expect more because I have my own standard when it comes to handsome face. Yup, I have such high taste.
Enough with the cover already. First thing first, where the hell is Daemon's shirt? Most of the time, I encountered with his character being shirtless and bloody hottt. And of course I have my own made-up character without taking anything from the male cover! I mean like reallyyy hott. Please put your shirt on, and stop being that way. Is it possible to even blushing with fictional characters? Am I so pathetic? I think that's all I wanna talk about Daemon Black. Damn, He has a freaking name too.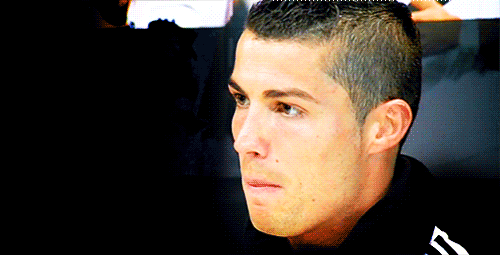 ( I know, I know, Ronaldo doesn't has anything to do with this, but..he's HOT )
Katy. Kat. Kitten. All claws, no bite. Does anyone feel relatable? She has a freaking book blog! How awesome is that? I mean, it's like a dream comes true for every booktuber and book blogger to have this kind of life. Imagine, being an avid reader, you must eventually meet with so many kind of fantasies and fictions that way too beyond speechless and seem totally unrealistic with the reality. But then, who knows one day you will be really like the character in the book, meeting an alien, mutated ( opps spoiler ) and have your own unrational story. How I wish to even have such a dream even in my sleep.
Man, how about the plot? Stop talking about the characters! Let me summarize it to you. ( Kat-meet-Daemon-alien-Arum-freak-save-heal ). Sorry I am such a bad summarizer.Hope you get it. I mean, come on you must already get the idea of this kinda vampire story, but just add some Sci-Fi explanation of light and change vampire to alien freak.
To conclude, I love this story. I am new to this alien things though. Although there's nothing new and fresh being serves, I enjoyed it much.
Overall
Guys read this. I enjoyed it so much. Definitely will check out the other series!
xoxo,
Happy reading!